SparkCode Professional - Win Lose Draw Charts
Option Dialog for Win Lose Draw Charts.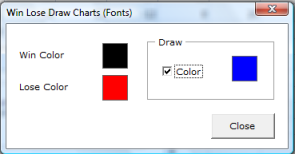 Interpretation
SparkCode Professional will interprete all postive numbers or the character + as a win.
Zeroes will be interpreted as draw
All negative numbers and the character - will be interpreted as a loss.
Draw Color Checkbox - check this box to display a Draw Column when a zero is encountered in the data series. If this value is left unchecked, a Blank will be displayed for the zero value.
Checkbox that determines the presence of a Draw Column
Win Color - click the color box to set color for the Win columns
Lose Color - click the color box to set color for the Lose columns
Draw Color - click the color box to set color for the Draw columns