InvestmentCode
What is InvestmentCode?
InvestmentCode is a comprehensive suite of investment calculators and modeling templates developed by ConnectCode. It significantly improves the productivity of investors and analysts on the different aspects of financial modeling. Equipped with over 100 financial templates in over 30 categories of finance, it certainly helps to reduce the effort in managing investments, calculating cash flows, optimizing portfolio, valuing bonds and equities, analyzing financial statements and performing forecast quickly and easily.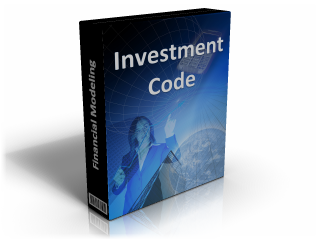 Brochure - Download Trial - Purchase - License
Price : From $69

Limited Time Special Offer !!!
Click on the purchase page for the special discount!

Sample Spreadsheets Documentation

Assets Correlations - Company Financial Plan - Jensen Alpha - Options Valuation
Departmental Budgeting - Capital Budgeting - Bond Duration and Convexity
Stock Beta - Free Cash Flow to Firm - Portfolio Optimization
Benefits of using InvestmentCode
Industry Proven
The models and templates are developed by an industry proven team that focuses on accuracy and quality. The templates are tested vigorously and have received positive feedbacks from the industry.
Ease of Use
All financial models are ready to be used out of the box. Want to optimize a portfolio? With a single click, regression of historical stock prices and plotting of the optimal portfolio curve are carried out automatically. Want to calculate the Stock Beta? Simply key in the Stock Quotes and it is done! Capital Budgeting? Key in the estimates of the cash flow, the models will help you make comparisons of the cash flow before and after a project investment, forecast for the worst and best case scenario. Need to come up with a Pro Forma Financial Statement for Corporate Financial Planning and Forecasting? Key in the estimates of the cash flow, the models will analyze historical data, derive the Common Size statement, calculate forecast figures and perform financial ratio analysis.


Comprehensive Documentation
When is the last time that you have lost sleep to figure out what some of the existing models are doing. This will not happen with InvestmentCode. We provide comprehensive documentation on the different parts of the model. Even our Visual Basic Applications modules are comprehensively documented.


Ease of Customization
Our models are designed with optimal customization in mind. The model formulas can be easily copied and pasted to other parts of the spreadsheet. The VBA modules are developed in an easy to understand and straight forward manner. This allows you to make changes to the model quickly and easily.


Components Reuse Approach
All the templates are developed with emphasis on reusability. With reusability, productivity can be improved by combining several templates together in an integrated manner to form the basis of a new financial model. As the individual templates have been tested vigorously, reusing them also leads to less errors and mistakes in the models.


Open Source Models
All source code and formulas will be provided. We do not hide anything from you. This is important for any institution audits and verification.


List of Models Supported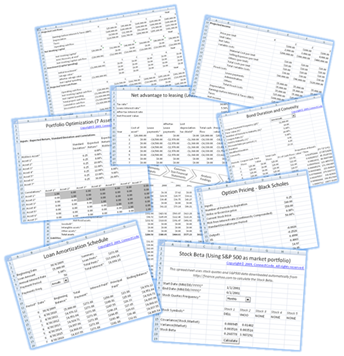 Accounting

Modified Accelerated Cost Recovery System (MACRS Depreciation) tables
Income Statement
Balance Sheet
Cash Flow

Assets Correlation
Bonds Valuation

Yield to Maturity
Price Valuation
Duration
Convexity

Capital Budgeting

Project Investment
Before and After Project Comparisons
Base Case, Worst Case and Best Case

Corporate Financial Planning

Pro Forma Statements
Common Size Statements
Financial Forecasting
Financial Ratio Analysis

Company Financial Plan

3 Years
5 Years
Valuation

Cost of Capital

Cost of Equity
Cost of Debt
Weighted Average Cost of Capital

Departmental Budgeting

Budget
Actual
Variance
Allocate Overhead Expenses

Equities

Gordon's Dividend Growth Model
Free Cash Flow to Firm (Share Price Valuation)
Free Cash Flow to Equity
Enterprise Terminal Value

Funds Management

Sharpe Ratio
Treynor Performance Index
Jensen Alpha

Inflation

Consumer Price Index
Monthly Inflation
Yearly Inflation

Internal Rate of Return
International Fisher Effect

Purchasing Power Parity
Interest Rate Parity

Loan Amortization

Annual/Semi-Annual Payments
Quarterly Payments
Bi-Monthly Payments
Monthly Payments
Weekly Payments

Net Advantage To Leasing
Net Present Value
Options Valuation

Put Call Parity
Binomial Option Pricing
Black Scholes

Portfolio

Portfolio Risk and Beta
Risk Reward Trade Off Line
Efficient Frontier
Tangency Portfolio
Portfolio Optimization

Returns and Yield

Money Weighted Rate of Return
Time Weighted Rate of Return
Holding Period Return
Bank Discount Yield

Stock Beta
Unlevered Beta
Stock Quotes

Download stock quotes from Yahoo Finance

Time Value of Money

Present Value
Future Value
Money Market Yield
Priority Technical Support, Free upgrades for a year
ConnectCode provides excellent priority email support to our registered customers. Customers are also entitled to a one year free upgrade of the software.


Download InvestmentCode Trial
System Requirements
Microsoft® Windows 7, Windows 8 or Windows 10
Windows Server 2003, 2008, 2012 or 2016
512 MB RAM
5 MB of Hard Disk space
Excel 2007, 2010, 2013 or 2016
InvestmentCode.zip (Zip Format - 5532 KB)



Back to Excel Templates and Add-In