Free Technical Analysis Software
In recent years, technical analysis has grown to become very popular. One of the reasons for this growth is attributed to the number of books written on the subject. A better understanding of technical analysis allows more people to apply the concepts and theories in their trading. Another reason for the growing importance of technical analysis is due to the popularity of trend trading system and swing trading system which both uses technical indicators.





This is a free technical analysis software that includes some of the most commonly used technical indicators. It allows the user to select inputs from within Microsoft Excel and generates the technical indicators in the output column specified.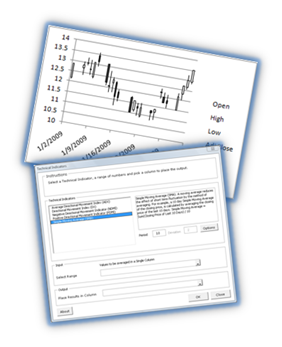 Technical Analysis Software Indicators
Average Directional Movement Index (ADX)
Directional Movement Index (DX)
Negative Directional Movement Indicator (NDMI)
Positive Directional Movement Indicator (PDMI)
Simple Moving Average (SMA)
Download Free Technical Analysis Software
System Requirements
Microsoft Windows 7, Windows 8 or Windows 10
512 MB RAM
5 MB of Hard Disk space
Excel 2007, 2010, 2013 or 2016
TechnicalIndicators.exe (EXE Format - 5540 KB)


Back to Excel Add-In and Templates